Feed Forward, an Alternative Approach
The Beginning

At 15, on starting work, my early interest in music & electronics developed in practical ways. Quality music reproduction became something of an obsession. Experience at work was of limited help as the company business was radio & television. A complete manufacturing facility, components designed & made on site.

I knew of Negative Feedback but thought 'It merely reduces distortion, why not cancel it, together with hum & noise?' I was young & inexperienced. A preliminary circuit was devised, refined over a period & finally built. Amazingly it actually worked, the sound was quite a surprise.

Using vinyl records it gave a degree of transparency not heard previously. No distortion analyser was available, an oscilloscope showed visibly pure waveforms throughout the audio spectrum. More importantly, reproduction was pleasingly clear & realistic when judged by ear. Using four television type output valves, eight Watts was obtained, the design target was twelve.

Several were built for family & friends. Minor evolutionary changes took place, the current injected distortion correction was later replaced by Voltage drive. This required a change in transformer ratio, gave a more elegant looking circuit & achieved the power efficiency originally expected. With better valves, outputs up to 50 Watts were produced.

After that no more were built, solid state seemed the way forward.

Later a transistor stereo version was built, current summing was again employed. It was compared with a carefully designed feedback type using similiar components & transistors. Distortion analysis showed it to be slightly better & frequency response was as good. However it sounded much better, with the old transparency.

The feedback model gave more power & a greater damping factor.

With the passage of time & more experience the reason for its sonic clarity has been established. After a gap of many years, work is starting on a modern dual channel version, using current professional valves. With an output to suit today's requirements & Voltage drive.

A higher power, current injected, transistor version may also be built.

This will be a separate line of research to our proposed monitoring & stage amplifiers. However there may be some cross-pollination between them. Each will be subjected to long term test & analysis before any decision is made on marketing or otherwise.

Feed Forward, an Alternative Approach
Elements of Design

The principle of feed forward error reduction is straightforward. Initially an audio signal is supplied to the input of an inverting amplifier, this is the Main channel. Its output is compared to the input, using a suitable circuit (comparator). This gives a difference signal, consisting of distortion products plus any hum & noise.

This signal is applied to the input of a second inverting amplifier, the Difference channel. Its output is connected to the same load as the Main channel, this tends to cancel any distortion products etc. Obviously, unlike the original design ideal, total cancellation can not be achieved.

Any distortion & noise in the Difference channel will not be cancelled In the original 'pure' version. In practice this will however be low, because this stage only needs to supply sufficient power to correct the small errors in the primary stage.

For the later version of the Voltage summed type, the comparator drive signal was taken from the combined output. As distinct from the primary stage output as in the earlier versions. This is the version shown in the schematic below. This arrangement causes any errors in the difference amplifier to appear in the comparator's output as an error & be amplified as a correcting signal, by the Difference channel. This mechanism is, of course, negative feedback and thus can only reduce such errors..

Despite this, the overall system is not a feedback amplifier. The Difference channel does not see the original signal at all, only distortion & noise products from the output. The Main channel does not require feedback for distortion reduction, it can be simpler, with lower gain. This usually means less phase shift & noise.

Phase shift is a problem in amplification, it is inherently worse with more stages & with higher gains. The human ear is exceptionally sensitive to phase errors, this explains, at least partly, a lack of realism from many well specified amplifiers. The feed forward system sees a phase shifted signal as an error & tends to correct it.

Feedback systems have difficulty with this, at some frequencies the shift may be enough to result in positive feedback. Often gain is reduced at these frequencies to prevent oscillation. This results in further phase shift, plus increased harmonic & inter-modulation distortion.

The section on negative feedback shows that correction by this method ceases to work at the point of overload. There is simply no power available to reduce the resultant high distortion. With feed forward, overload of the Main channel can be corrected, at least patially, provided the power required does not also overload the Difference channel.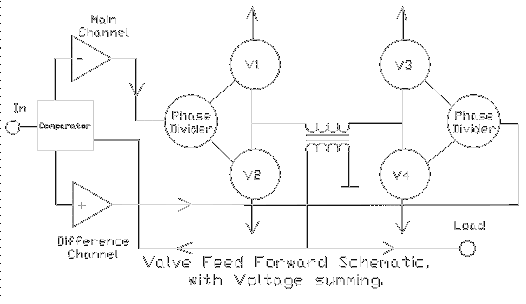 With correct design the maximum output should be the sum of the two channel's power capabilities. In the early models, with current summing, the result fell short by a third. Voltage summed versions reached the design target. This difference, also found in a transistor version, will be investigated. It is presumably due to each channel providing a low impedance load to the other, when driven hard.

Normally the two amplifiers are similiar. A transistor variant, tried early on, configured the Main channel as a lower power Class A amplifier. With the Difference channel providing higher power in Class B or AB. This should have combined the best of both worlds, improved inherent linearity at lower powers & greater efficiency at high output. Current summing worked better here.

Results were not promising at first, using germanium transistors, they were simply too slow to correct overload in time. When suitable faster silicon power devices became available in Britain the design worked well. By then I had moved on to other things and the idea was not pursued further. Now I am developing the idea again, to produce an amplifier with class A sonic clarity combined with high efficiency.

An important point that is often overlooked. Whatever form of error reduction is employed, the basic design needs to be good without it. Feedback or feed forward should improve on excellence, not try to create it. It is all too common to find N.F.B. used to bring a poor design 'up to spec', with uninspiring results.

Another common misunderstanding regarding N.F.B. is its effect on noise. Put simply it can not improve the signal to noise ratio of an amplifier or pre-amp. In many cases it makes the situation appreciably worse.

From the front end a specific degree of amplification is required. To raise a specified input signal to the specified output. N.F.B. appears to lower the noise, but it lowers the signal by the same amount (more of less). So additional gain is required to bring the signal back up, bringing back the noise.

The reason it can make matters worse is that noise is broadband. There are high frequency components. Due to phase shift, feedback does not exactly cancel these high frequencies. So the extra gain increases them. A similiar problem often shows with capacitor coupled amps at low frequencies (hum etc.). Using larger capacitors reduces the offending phase shifts.

This can create another problem, particularly with hard driven performance amplifiers. Overdriving causes stage inputs to rectify the signal, this happens with valve or transistor circuits. This charges the coupling capacitors, when the overload ceases the charge 'turns off' the stage momentarilly.

The resultant drop in volume is disconcerting, with a larger capacitor the time constant is longer. That is one reason why capacitor values are often chosen to only just do the job.

Feed forward will of course see noise etc. as an error & reduce it. As the stage gain does not need to be higher a genuine reduction is possible. The noise of the difference channel does of course interfere with this cosy situation. Nevertheless, with care, it is a distinct improvement, if a little more complex.