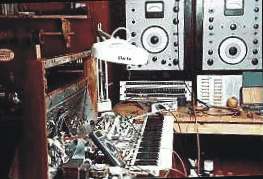 Modern or Classic Musical Instrument Servicing
We service most modern Keyboard Instruments. For example, in no particular order, Roland, Korg, Yamaha, Casio, Kurzweil, Fatar etc.
Synthesisers, Sound Modules, Samplers, Sequencers, Organs, Drum Machines, Effects units, Mixers, Amplifiers & Good reel to reel Tape Recorders etc. Also older or classic gear & instruments.
A corner of The Service Zone, Mercia, with a Memorymoog Plus receiving TLC.