Minimoog, Robert Moog's masterpiece. The definitive synthesiser, still the best. Reliable, always fixable, no custom electronic parts. Monophonic, 44 note keyboard, 3 VCOs, one doubling as LFO. A brilliant, well thought out & exceptionally thorough design. The best filter in the business, a discrete transistor ladder. Time constant portamento, unlike most programmables, this glides faster over greater intervals & is far more useful. All discrete sound generating circuitry. Has no 'Sync' function, some may say it lacks a few modern features. Its sound more than makes up for any perceived shortcomings, heard on more records than all the competition together. Music lovers recognise the fat bass that others can only try to emulate. The downward portamento with wide timbral sweep are a trademark sound. As with most keyboard instruments, may develop intermittent contacts due to dirt & atmospheric contamination etc. Ensure whoever cleans them knows what they are doing & has the required skill. Gold plated coil spring contacts are delicate, easily damaged & difficult to obtain or replace.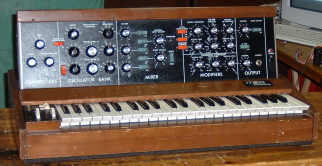 The heavily used model above, with control panel up. > > Robert Moog eventuall got his company name back, except in Britain.* He introduced a NEW Minimoog, the Voyager. With a specification expected of today's instruments, whilst not straying far from the original concept.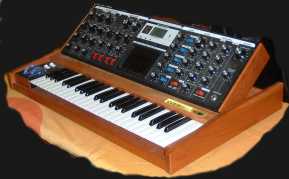 How many people can design a classic just once? Dr. Bob Moog did it again, taking the best synthesiser made & re-introducing it. Actually improving on the original, this has to be a record. A Minimoog Voyager, Signature Edition, during updating at our Mercia Facility. The Voyager is beautifully built, a worthy successor to the original Minimoog. Designed to last, easy to set up, sounds like the classic Minimoog, but with more, highly recommended.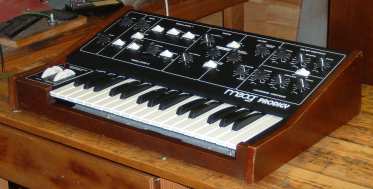 Moog Prodigy, tidy little mono analogue from the Norlin era. One owner thought enough of it to name their group after it. Reliable, fairly easy to service, most electronic parts are standard. Not a Classic Moog, but O.K. 32 note keyboard, 2 VCOs, 2 E.Gs, sync. separate LFO & Moog ladder filter.


Two hard working Prodigys during servicing @ our Mercia workshops.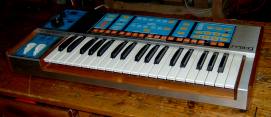 The Source, Moog Music's first programmable synthesiser. Monophonic, with two VCOs, one LFO & three octave keyboard. Brightly coloured membrane control panel, this handles all switched functions. The usual 2 Moog wheels, & octave transpose buttons.
Small, neat, light & sounds good. The only analogue control on the main panel is volume. All other variable values are stored in memory & entered via a single optical rotary data encoder. Probably the first use of such a feature on a musical instrument. Unusually, the encoder has a flywheel to help with wide changes to the high resolution parameters, values are shown on a small LED display. 16 programmable presets, shown on a second LED display, plus live panel, a small sequencer & arpeggiator. Other functions & features are typical of the genre. Sync is included. Often quoted as being a programmable Minimoog but that is a matter of opinion. It is probably best considered a clever little instrument in its own right, rather than be expected to live up to a prestigious forebear's name. Some examples are reliable & tuning stability is reasonable. The membrane control panel is a likely weakness, if this is damaged switches won't work & an original replacement is obviously not available. In this case it will not be adjustable, or programmable. Bear this in mind if considering purchase & make sure EVERY button pad works. The Parameter display indicates this. Most other problems can be fixed.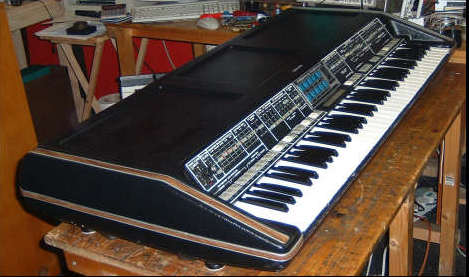 Polymoog, Moog Music's first polyphonic, but is it a synthesiser? In reality it is more of an organ, crossed with a string machine. It has a Moog ladder filter, possibly its saving grace. Only one though, so this part is monophonic, with limited range of control. 71 front weighted keys with velocity, fixed keyboard split function.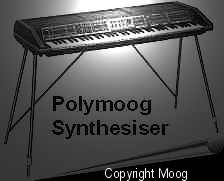 Central 10 button section wth 8 Presets, Variable & a rather strange Part Lock. 2 Master oscillators with dividers & relative detune facility. Portamento is not possible but it has a pitch bend ribbon & pedal. Heavy for what it is & expensive when new. It has good legs. Polymoog Keyboard. Cut down version, more presets but minus the variable & filter sections. Otherwise similiar. The Vox Humana preset may be its raison d' etre. Both models are unreliable, complex & a challenge to service. Many parts are difficult to obtain. Buying one with faults is asking for trouble. Occasionally one turns up in good cosmetic condition & working properly. If it is really what you want & the price is right, snap it up. When it goes wrong, take it to someone who genuinely knows what they are doing.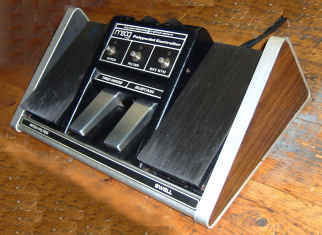 The Polypedal, Used with both models. The left variable pedal controls upward VCF sweep &/or pitch bend selected by button switches. Two rotary controls set it up, the right variable pedal controls volume. The silver pedals control trigger mode (single or multi) & sustain. The remaining button selects External Sync'. The pitch pedal is easier to use than the awkwardly placed (central behind the keyboard) pitch ribbon. However, it can only bend up, making it less useful.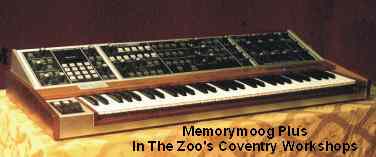 Memorymoog, Moog Music did eventually produce a true polyphonic synthesiser. 6 Voice analogue programmable, 3 VCOs per voice. Auto-tune, which is desperately needed, the later 16 bit version actually works fairly well. Some people swear by (or at) its fat sound with all 18 VCOs in unison. Exactly how fat depends on how long since 'Tune' was pressed. It has a large fan to stir up the air inside, so there is no danger of reaching thermal equilibrium. Its vibration is reassuring, showing that something at least is working. Claimed to be a polyphonic Minimoog but it isn't. VCOs & envelope generators are Curtis chips as in the Rev 3 Prophets etc. Six Moog ladder filters, but with integrated circuit buffers. Sounds pretty good though, in its own way. Equipped with an Arpeggiator of sorts that does not work properly. 'Plus' models are fitted with rudimentary MIDI & a basic sequencer.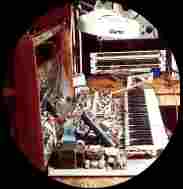 Said to be the model that brought the old Moog Music down. This may just be a good story. Probably it came out too late to save them and did not offer enough for the time. If buying one make sure you have a lot of patience & deep pockets for service bills. Weak points: Reliability, Reliability, Reliability. A Plus model in typical position, open for diagnosis & repair. Note: Moog Music worked hard to improve this troublesome instrument, later versions are often appreciably better. Occasional examples are said to be fairly stable. Very infrequently one is offered for sale that has "had no trouble all its life & stays in tune". One may come your way & you may have reason to believe the vendor. If so & it is what you want, go for it.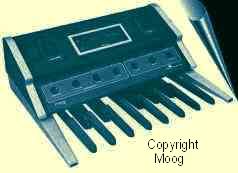 Taurus, the ultimate bass synthesiser. Two stable VCOs & Minimoog type discrete ladder filter. Using a Lowrey 13 key, C to C, pedal board. Foot controls include: 3 presets, the best is 'Taurus', a deep rolling bass like no other; Variable setting, with controls under a transparent cover. Pitch range 32' to 1', VCF controls, glide etc; Switches for octave, glide & decay; Sliders for volume & VCF cutoff. Nothing else sounds like it or works like it. Highly reliable & exceptionally well built. Provided it is looked after, it can be used with confidence for live performances any time. Unlike later pedal instruments from Italy or Japan. Many of these have MIDI but few last.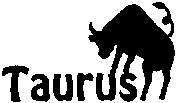 As with any classic analogue, servicing should be entrusted only to someone good, with a known track record. Contacts are silver alloy & obviously near the ground. They can get dirty or tarnished & become intermittent after years of use. A problem inherited from Lowrey, they respond to careful cleaning. Taurus II, unfortunately this model bears no resemblance to the original. It is basically a Moog Rogue stuck on a stick, atop a pedal board. It may be a passable cheap lead synth, but how many play lead lines with their foot? Reliability is typical of the Rogue, but with the added problem of poor pedal contacts. Am I prejudiced against it? Who, me?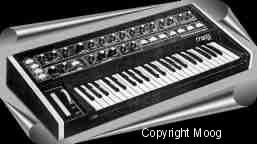 Multimoog, a fairly basic, but somewhat strange, mono analogue synthesiser. Internally it is modular in construction, with the two temperature stabilised VCOs on separate boards. Unusually the VCO B card is the master. This one is also used in the Micromoog, a reduced, single VCO version. VCO A has an interval control for detuning. A small ribbon controller is used for pitch bend, with a conventional wheel for modulation. The 44 note keyboard has a pressure sensor which can be routed to various destinations. VCO Sync is included, also 'Sample & Hold' and Filter modulation by VCO B. This is not a classic Moog but a passable, if average sounding, mono synth. The Micromoog on the other hand, is rather weak.


The Rogue, a basic synthesiser, from the period after Robert Moog left the company. 32 plastic keys, F to C, 2 VCOs, the second with variable pulse width. 1 discrete ladder 4 pole VCF, 1 envelope generator, with limited control, 1 LFO, sync' function. 2 Performance wheels, on the panel behind the keyboard. The sync' function has a contour setting, this uses the single E.G. to create an unusual & effective timbral sweep. A pleasing & useful effect.

Small, black, it does the job & is moderately reliable (apart from switch contact corrosion). What more can one say?

In case you would rather see the back of this model.
We aim to please.