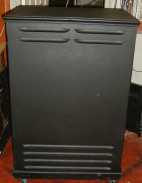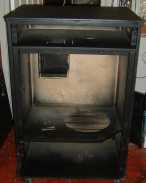 The 122 model is designed for organs with balanced line output, such as the Hammond console models, B2, B3, C2, C3 etc. This is a black fleck version, a later chipboard cabinet. Interior parts removed, during restoration in our Mercia Workshops. It is possible to 'mix & match' Leslie types. Many musicians use the 122 with an A100 or the 145/7 with a B3 / C3. It depends on what sound is desired, mellow or bright & punchy.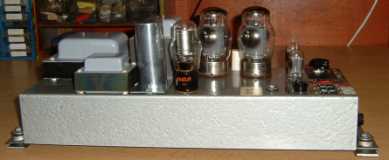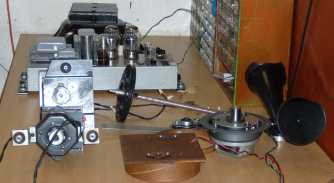 An authentic Leslie sound requires the genuine article, not a copy or solid state simulator. Many original design details have not been mastered by imitators. As for a simulator, the ambience, resulting from sound being spun round a live reverberant room, is more than just a modulated delay time.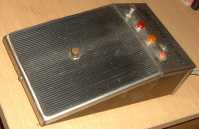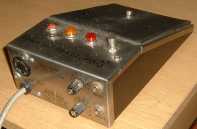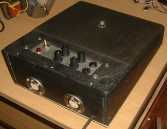 A Leslie Combo pre-amp pedal, and a Bill Dunne pre-amp pedal. Both need a service.
They allow a guitar, electric piano or electronic keyboard instrument etc. to be played through a Leslie.

---
Typical Leslie components that we see, in various states of neglect. Before, during & after dismantling to return them to good condition. Use cursor for brief info. Typical work is listed below the images.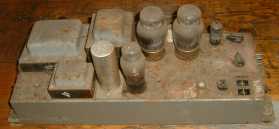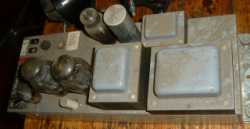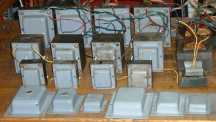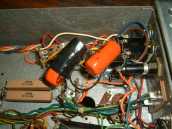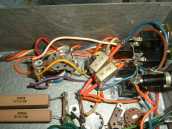 ---
Various parts, before & after service: (Will be added to).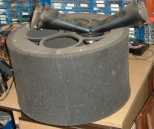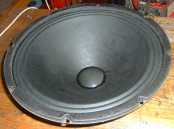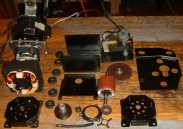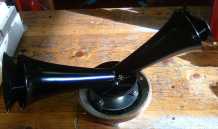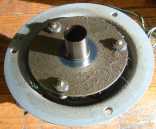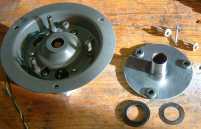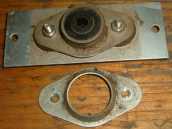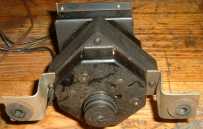 Our work on Leslies includes: Amplifier chassis; re-plating & re-painting if required. Transformers; dismantling, checking windings, re-painting shrouds etc. as needed. Replacement of valve holders, capacitors & resistors. Re-wiring etc., fitting new valves & relays when needed. Full functional, sound quality & reliability test. Insulation & mains safety test. Bass rotor; thorough cleaning & any necessary repairs. Repairing woodwork, cleaning, tightening or replacing skirt. Clean out bearings and re-grease. Shaft, support bracket etc., clean & refinish as required. Bass driver; clean, check for diaphragm damage, wear, softening, rubbing etc., re-cone if needed. Magnet, check for security to chassis. Chassis clean & re-finish if required. Test on full drive over active frequency range. Treble rotor; clean intenally and externally, diffusers, check for security, secure or replace if needed. Bearings, clean, check & oil. Treble driver; dismantle from bearing plate, clean, check for problems, such as poor terminations, loose or out of centre coil etc. Centre diaphragm, service & re-finish as required. Full drive test over frequency range, with bearing plate & horns in place. Crossover (frequency divider) assembly; Clean, check wiring, check socket contacts & repair / replace if needed. Check crossover frequency, overlap & rate. Replace capacitor unit if required. Motors; Check, dismantle, clean & service as required. Check coil insulation & safety. Check leads for damage etc. Re-finish bearing housings as required, ensure bearing security & alignment. Check spacing washers, slow motor springs etc. & adjust as needed. Replace slow drive tyres if worn, final test & adjustment after assembly. Run in & mains safety tests. Cabinet; Clean out fully after removing internal components. Check for damage, loose joints etc. & repair as needed. Re-finish & polish exterior if called for. Final assembly; sound test the speaker & complete setup. Using sine wave generator, test recordings & a suitable organ. Test speed change & fine adjust if required. Test mains safety & leakage etc. Using its partner instrument if available. For those who put modern safety requirements above complete originality. We can convert to use a separate mains connection & relay switching. Taking the mains connection away from the signal cable, as with a modern Leslie. This is more practical with the 122 than the 145/7, due to the lack of mains switching. For instruments likely to travel, such modification needs to be done in such a way that another, standard, Leslie or organ can be used. To allow for hiring in an emergency. Leslies with unsatisfactory modifications are usually returned to standard. Particularly if safety has been compromised, such as the use of audio connectors for mains. This latter is more common than might be thought, see the picture of a modified amplifier above. As an altrenative to the range of work listed, we can provide a basic service, if this is what's required. To return a Leslie to full functional condition, if an overhaul or total restoration is not justified. More soon: Electrical Safety. The electrical safety of a classic Leslie depends, in part, on the instrument it is used with. The connecting lead carries mains, chassis & signal wiring together. A damaged lead, possibly due to being tripped over, can connect mains live to the instrument's & Leslie's metalwork. If the instrument has a two pin mains connector the mains (line) fuse will not blow. The combination is then in a lethal state, but may continue working, giving no obvious sign of its player's potential fate. In addition the favoured 122 model left the factory with 2 large capacitors between the mains & amplifier chassis. These are lethal, especially on 230 Volts, & should be removed if still present. Safety rating: '0'. It may be '2' if the host instrument is fitted with 3 conductor IEC plug & earth.