I was the importer's official warranty service engineer when these classics were made.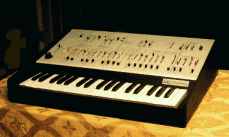 The Original 'White Face' Odyssey, a less common version of this classic. Duophonic analogue with 2 VCOs, 1 LFO & 1 VCF.

This last, which gave the White Face its distinctive sound, was a bone of contention & apparently led to legal wrangling. It is a sealed (potted) module, hiding a guilty secret, or so the story goes.

A copy of the Moog ladder filter, also used in early 2600s. After discovery, this was replaced by an exclusive ARP circuit, incorporating a design flaw. It can not cover the entire audio range, with a high of only 12 K/Cs. Thus the later version, identified by a black control panel ( hence 'Black Face'), has a different, less biting, sound.

This is probably just a story, the white faces we have seen have a 4023 filter module. This is a 2 pole OTA type, similiar to that used later by Oberheim. The 4 pole ladder modules are numbered 4012 & later 4034 or 4035. These appeared in early 2600 models & some later 'Black Faces'. These were discontinued for legal reasons.

Both versions have a distinctive black vinyl wrap around base. This extends forwards, offering some protection to the protruding organ style keys. Lack of this feature is a weakness of the Mark 2 model. A steel case with hinged control panel & mock leather sides. Entirely plastic keys extend beyond the front & are often broken. 'Proportional' buttons allow pitch bend.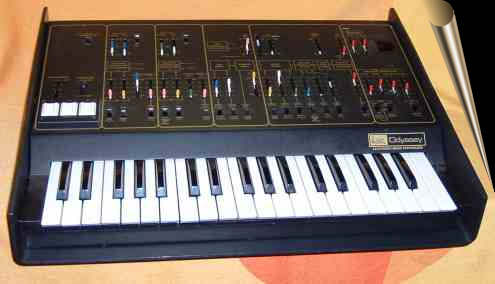 This neat black face is unusual, a factory hybrid. Innards & contacts are Mark 2.
With 'proportional controllers', seen on the front left & rear CV / Gate jacks.
Case & keyboard are the better Mark 1 type.


The company founded by Alan R. Pearlman produced a number of classics over the years. Also a few that missed the category. Their last design, the Chroma, survived the company's demise & was eventually built by Rhodes under their name.
More will be on this page soon.

The White & Black Faces are strictly just colour variants of the same model. Called by their creators just 'Odyssey'. The model with a steel case & orange decal (Orange Face) was called 'Odyssey 2 (or II)'. For simplicity I call them Mark 1 & Mark 2.
It seems that some in the industry now call the White Face Mark 1, the Black Face Mark 2 & the Orange Face Mark 3. Giving the first two versions different Mark numbers is a bit like giving black cars a different model number to red cars, just because they may have different grades of spark plug.
An Odyssey by any other name will sound as good.
All Brand & Model names are Trademarks and/or Copyright of their respective owners.

All opinions in this section are those of the author, Ron Lebar.
Information given is generally brief & is based on our experience. If you spot any factual mistakes or 'typos' please feel free to let us know. We are not quite perfect & promise not to sulk over constructive criticism.
If you need more information on models listed or can suggest another instrument to add let us know & we will do our best. From time to time we may include comprehensive details of specific models.
For Technical queries, advice on operational problems etc. you are welcome to E-Mail us.
Our prime directive is the pursuit & maintenance of excellence in music technology.
Visit

pages for more information.

For Service & Repairs etc. call: +44 (0)207 288 0037

E-Mail us for hire, repairs, orders etc.
Service <

> Hire
Classic & Modern Instruments or Equipment. Stage, Studio & Broadcast
ARP. Updated on the 2nd of June 2008. © Ron Lebar, Author.