©


In the late '80s my company started officially carrying out Roland warranty service.
See our history page for more information.

What does this photograph show a part of? * The Roland line up includes some unusual, innovative & beautifully built classics.


Roland SH-101, cute little monophonic analogue synthesiser you can wear like a guitar.

Microprocessor controlled, with arpeggiator etc. One VCO using an extinct Curtis chip, 4 pole cell filter, ideal for dance music.

This grey example, in need of some T.L.C., has its add-on hand controller & neck strap mount.

Due to its age, dedicated spares are difficult, ensure full operation before purchase.

This rare blue version attracts a higher price, especially when as well looked after as this. This one has been fitted with matching blue LEDs, cute. If you own an SH-101, take care of it, spare keys have now been discontinued.

Here is the famous red version, expect to pay a premium price, for one in this condition. Even rarer to find than the blue & usually cherished by owners. This one has well executed modifications.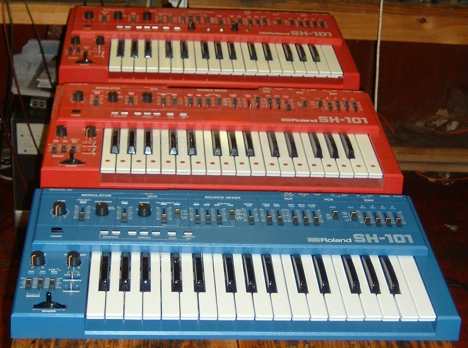 They tend to be gregarious & like to hold reunions in our workshop. The front two in this trio are in original standard condition, before servicing.


Roland Juno-106, polyphonic synthesiser, 6 DCOs, analogue filters, CCD chorus. Sought after sound, Roland's backup is brilliant but waveform converters, VCF/VCAs, bender mechanism & keys are obsolete.

When buying, check all 6 voices sound the same, especially with the resonant VCF in use, & on Pulse Wave with VCF open. If one voice in six missing or different this is Trouble (with a capital T). If it has a broken bender, try to ensure it is repairable.

Roland D-50, 5 octave, sample based digital synthesis & one of the first of its kind. Usually reliable, very popular for a long time & many are still in regular use. A sound that has been heard on a lot of records. Avoid if not working or with troublesome after-market expansions. Many parts are still available.

With regular use will require occasional contact cleaning or replacement. With hard playing will sometimes need keys. If buttons require a lot of pressure before activating it is best to have the offending switches replaced fairly soon. Otherwise buttons will eventually break.

D-70, 76 key version with more features & good drum sounds. Heavier, less popular & has proved more troublesome. In our opinion the D-50 is better, the number still around back this up.

D-10, entry level model in the D-50 Linear Arithmetic (LA) range. 5 octave keyboard, less features. Reliability similar to D-50 & with much the same problems. Quite a nice instrument.
The D-5, not pictured, is the least well specified and lowest cost model in the range.


Jupiter-8, Roland's groundbreaking analogue polyphonic Synthesiser, 8 Voices, 2 VCOs each. Superb build quality and unique sound. Easy to adjust, with a well laid out panel, 64 programmable presets and 8 split combinations.
Click to expand image, the 'Back' button returns.
Keyboard modes, polyphonic, unison and arpeggio. Assignable bend wheel, 61 keys, metal key contacts.
Service access generally good, hinged panel and boards.
Roland's service support is brilliant & electronic parts are mostly standard. A good buy, preset buttons probably unavailable, bear this in mind. Check all voices play on both VCOs. Stop press 2005: Spare keys for this model have been discontinued, so if you own one, take extra care of it.
Later models had a DCB port (Digital Control Buss). This allowed interfacing to other instruments etc. When MIDI came out, Roland produced a couple of converters with different features.


Jupiter-6, not really a replacement for the Jupiter-8, it is Roland's first keyboard with MIDI. 6 Voices, 2 VCOs each. Multi mode filters, 2 E.G.s per voice, with adjustable keyboard tracking. Many features similar to JP-8 & some unique. Well made & quite reliable.


Jupiter-4, early Roland polyphonic. 4 Voices, 1 VCO each. Presets plus manual control panel. Some presets are programmable. No auto-tune, prone to drift, rear panel controls to correct VCO pitch.

Wooden case, good 4 octave keyboard, with metal cross point contacts. Service access is O.K., with Mother / Daughter board layout & hinged panel.

If anything is wrong, this one may need a lot of work to fix. Most electronic parts are standard, but the two micro-controllers are custom mask programmed types.


VP-330 Vocoder, Roland built one of the best Vocoders around, this is the later 'Plus version.

Wooden case, good 4 octave keyboard, C to C, metal cross point contacts. Service access is O.K., with hinged control panel.
Microphone input, internal polyphonic string voices, good sound & effect. A classic, ensure it is only serviced by someone genuinely competent, who knows this model.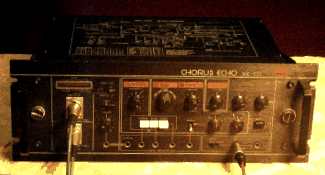 The SRE-555 is the flagship of the Chorus-Echo range. It is basically an RE-501 in a stromg 4U rack mounting case.
An inner frame, locked by the 2 large thumb screws near the handles, slides out on rails. This allows full access for tape replacement & head cleaning. This baby was really built.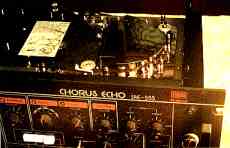 A metal plate, held by 4 small thumb screws, covers the mechanism. under this the tape compartment has a transparent cover, held by another 4 small thumb screws.
* The first picture, at the top of this page, is of the tape compartment, with this cover removed. Showing, as does this picture, window reflections in the polished chrome-work.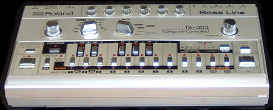 TB-303, Bass Line. (Click on image for a bigger one).
This silver baby has an amazing history. Introduced in 1982 with the TR-606, Drumatix, sharing a common look & programming style.
The two were intended to replace a bass player & drummer. For one man bands & small groups unable to afford the human originals. In that they were not very successful, the sound was not in the least realistic. The TR-606 was used by a number of musicians as a reasonable drum machine. When they came out we did a fair amount of work modifying them to be more useful.
The most useful 'mod' was individual outputs, these enabled the TR-606 to be used through a mixer, almost like an expensive professional machine. We drilled the required holes in a lot of those silver plastic boxes.
The TB-303 did not fair so well, programming is difficult to master & the sound is quirky. Roland stopped production after 18 months or so. Then one day, the story goes, someone started twiddling the controls whilst a machine was playing live, and so Acid Rock music was born. Up 'till then the instruments had been changing hands for reducing prices. Down to around £30 or so from the original £200 plus.
Once the true use (not the intended one) for the instrument was discovered, they became sought after. Prices started to rise, and kept rising. When they reached £500 in the early '90s we thought the bubble must burst. But they kept on, through the £1000 barrier, eventually reaching around £1,500. Not bad for a little silver box with one octave of tiny buttons.
Again we did a fair number of modifications, MIDI was the most useful. The D-50 turned out to be an ideal controller, a 5 octave keyboard & one unusual feature. It has a glide button that is sent over MIDI, neatly positioned on its left cheek block. Perfect for controlling the progammable slide that is such a unique feature of the Bass Line.
A web search, some time ago, showed that a few owners were trying to get $1,800 for the standard model. One modified model, in Britain, was on sale for $4,000. We don't know if they succeeded in selling them for this kind of money. An average seemed to be around $800, British prices were harder to establish.
Is it worth the money? If it is the instrument for your kind of music, the answer must be yes. No other instrument sounds like it & it is quite reliable. None of the software 'clones' come close. Don't buy one if its C.P.U. is definitely down, they can't be obtained. Get an opinion from a Roland recognised service centre.
The example in the image above sounded quite crazy, not a good sign. After a good service in our workshops and a lot of new parts it is 'as good as new'. If you click on the image you will get a larger, less compressed one. Not such a good idea if you are still stuck with 'dial up', unless you are patient.
The 'Back' button returns here, a number of sites specialise in this instrument, I may add some links one day.


These three Roland tape echo machines also held a reunion in our workshops. From left: RE-101, RE-201 & RE-501. They are now back with their respective owners, in much happier condition.

All Brand & Model names are Trademarks and/or Copyright of their respective owners.

All opinions in this section are those of the author, Ron Lebar.
Information given is generally brief & is based on our experience. If you spot any factual mistakes or 'typos' please feel free to let us know. We are not quite perfect & promise not to sulk over constructive criticism.
If you need more information on models listed or can suggest another instrument to add let us know & we will do our best. From time to time we may include comprehensive details of specific models.
For Technical queries, advice on operational problems etc. you are welcome to E-Mail us.
Our prime directive is the pursuit & maintenance of excellence in music technology.
Visit

pages for more information.
For Tuning, Service & Repairs etc. call: +44 (0)207 288 0037 E-Mail us for hire, repairs, orders etc.
Service <

> Hire
Classic & Modern Instruments or Equipment. Stage, Studio & Broadcast
Roland. Updated on the 13th of June 2008. © Ron Lebar, Author.