Rogues' Gallery.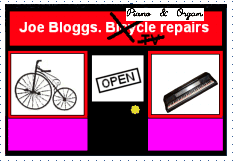 When buying 'bargains' there is always a risk, a purchase may be a genuine bargain, good and cheap at the price. On the other hand it may be cheap because it isn't worth much. This is a chance that must be taken in this kind of market.
Buying a 'classic' for a substantial sum is entirely another matter, a purchaser is entitled to expect what he or she has paid for. In an ideal World this will be so, but the real World is far from ideal.

Rogues' Gallery, # 2, the Yellow Peril.

This Wurlitzer EP200 was supposed to be restored. It came to us because it did not work well, a weak, dull, lifeless sound & out of tune.

It has very loose keys, bushings are badly worn. Most reeds were loose & dull sounding.
The person who "tuned" it had tried to get it into pitch by adjusting the reed screw tension.

After tightening, most reeds are sharp, requiring re-weighting, one has NO weight, only making a faint ping. Many have no sustain, needs a new set. Some pickups had been bent with pliers, requiring a strip-down, beating flat & reprofiling. The amplifier has poor sound, low level & a bit distorted. Needs a good service & some new parts. Speakers have poor treble, the cones have become soft & fluffy.

It sounds like a typical old, neglected 200 series piano, you may say. Maybe, but the owner paid for a restoration. The first thing we noticed was its bright colour, its battered vinyl cover had been paint sprayed, even over the aluminium trim! It has a new replica control panel, but it is loose, held only by the non-original aluminium 'hi-fi' knobs. These, as usual, don't fit & are prone to fall off.

The rule of thumb is "Buyer Beware". This piano has not been restored, not even properly serviced. A quick lick with a paint spray is not what these instruments need. The keys may be too far gone to be re-bushed, this can happen through bad storage conditions. It may not even be useful for spares, almost everything is worn or damaged. Even the leg plate screws are wrong & unsuitable.

It is possible to buy Wurlitzer pianos that have been looked after & in reasonable condition. Check thoroughly before purchase, make sure it plays well, that you like the feel & sound. The action should be fast & smooth. No loose or bouncy keys. Sound should be fairly bright & reasonably even.

If it needs a tune, service etc., take it to someone who genuinely knows how to do the job. With the renaissance of these classics, many ex TV repairers etc. are coming out of the woodwork & jumping on the service / restoration bandwagon (see our drawing at the top). Some know how to get an impressive Web site together, it's the substance that counts though.

There are good dedicated people in the service business, as well as some bad. Please don't tar us all with the same brush, we enjoy our work & take great care. It is rewarding when a player smiles after trying the finished job. We won't get filthy rich doing what we do, each pair of hands can only complete so much work properly.