ensoniQ's ESQ'1 is a wavetable synthesiser with analogue filters. A hybrid, following in the tradition of the PPG Wave & Sequential VS.
A capable & good sounding machine. Reliability problems & lack of maker's support prevent it being a classic. The 5 octave keyboard is an Italian Fatar type, also used in the Mirage, their earlier sampler. Its plastic key-frame is prone to breakage & no spares are available.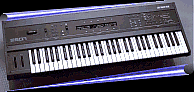 Silver plated wound spring contacts & plain busses. This type suffers from tarnishing, causing intermittency & contacts sometimes break.
It was followed by several variants, such as the SQ'1 & SQ'80. All in the same category, with the same problem regarding support.
Later models have floppy disc drives, enabling data loading without needing a custom cartridge. These often have their own problems, see section on floppy based machines. Those after the SQ series & the earlier Mirage models class as samplers. O.K. I know I have said this site does not include samplers & sample players. We are all entitled to change our mind occasionally.
They did produce a digital piano, the SDP. Despite its timing, this was not a political statement.


It stands for Sampled Digital Piano, not David Owen's Social Democratic Party.
They both came out in the same era, this one made rather less of an impact.

76 note keyboard, E to G. 10 voice polyphony, 12 preset sounds, Grand Piano, Bright Piano, Honky-Tonk Piano, plus tuned percussion & bass. Transposition with one octave range, plus one octave down shift for the variable bass split section.
A capable enough machine for the period, and with 12 bit samples, WOW. Not enough bits for a piano though, recorded from what sounded like a very average acoustic instrument. The characteristic weak impact response, from all strings when high notes are played, can't be handled,. Resulting in a distorted noise halo around the high end. Together with a distorted tail on sustained notes, not the greatest sound.
I have heard worse though, now let's think, where was that? Oh yes, from the 8 bit Mirage's Piano sample, strangely enough from the same maker, well well. No ensoniQs are classics, they are not sought after.

Talking about the Mirage, here it is, this is the later model keyboard, followed by the later model rack mount (DMS). Complete with flickering LED display, yellow on the DMS, & 8 bit sample playing. This allows a whole 127 steps of different waveform amplitude, so all sounds can be turned into a digitally repeatable staircase, quite something.


128K (yes K) of sample memory, so several short staircases can be stored. A sequencer with quite a few steps & a special feature. Due to limited processing power, if many keys are played, the flickering LEDs go out & the sequence stops.

Catching up to correct time with a rush, on key release, quite funny.

8 Voice polyphony, analogue filters, 61 keys. Keyboard, made by FATAR, has a plastic frame, prone to break, like the similar type on the ESQ'1. Pitch bend & modulation wheels. Not of course on the rack model.
These were sold as samplers, for most people however, they were sample players. Even with the extra goodies, available for the 2nd version, owners could not get samples as good as the factory library. The story going around was that the factory actually recorded their library on a Fairlight. It may have been true, the Mirage was very much cheaper, $1,395.00 plus tax.

I quite liked them, they were fun, if not taken too seriously. We made some money out of servicing them for the makers, which was not bad.

Safety.

ensoniQ instruments,at least those with metal cases, comply fully with relevant electrical safety requirements. There are no safety issues, they are as safe as possible. Top marks. Safety rating: '2'.

When ensoniQ first appoached me in '86, to sort out their entire servicing, I was working from our first floor maisonette in Bow, London. The day after the deal was signed, there was a rumpus in the street outside. I don't think the company realised I was working from home, they had sent several container lorries loaded with faulty Mirages.
They had addressed them to ensoniQ U.K. Limited, Service Department. The poor drivers were looking for me in the factory opposite our estate. After sorting this out we took delivery, our large maisonette was packed, on both floors. There were also boxes on each step of our stairway, so no pressure to get them fixed & out quickly.
That seems a long time ago. Business generally has become far too dull & humourless these days. We try to maintain the old spirit, with some success. The maisonette worked O.K. for a while, but school holidays were approaching. I could see disaster looming, with three noisy young boys in the house.
This was also the year we took control of our Council, implementing a promised draconian redesign of the local Civil Service (Full decentralisation). We were busy, a search for business premises culminated in our North London Partnership, successful for nine years. All the ensoniQs were ferried to Primrose Hill & a new era started. During that first year we picked up several other exclusive service agencies.
Throughout the nine years I missed the old home run business. In 1995, a year after moving to Kent, we restarted, pressure on the new house again got extreme. We had moved back into Hammond organs, Wurlitzer & Rhodes pianos etc., the heavy stuff. Hence the next move, to our Mercia setup, not quite a home business, but almost.
Our London headquarters is a historic listed building, in trendy Islington. So we have not deserted the capital.